INSIDE EIGHTH DAY
Why trust us with your skin?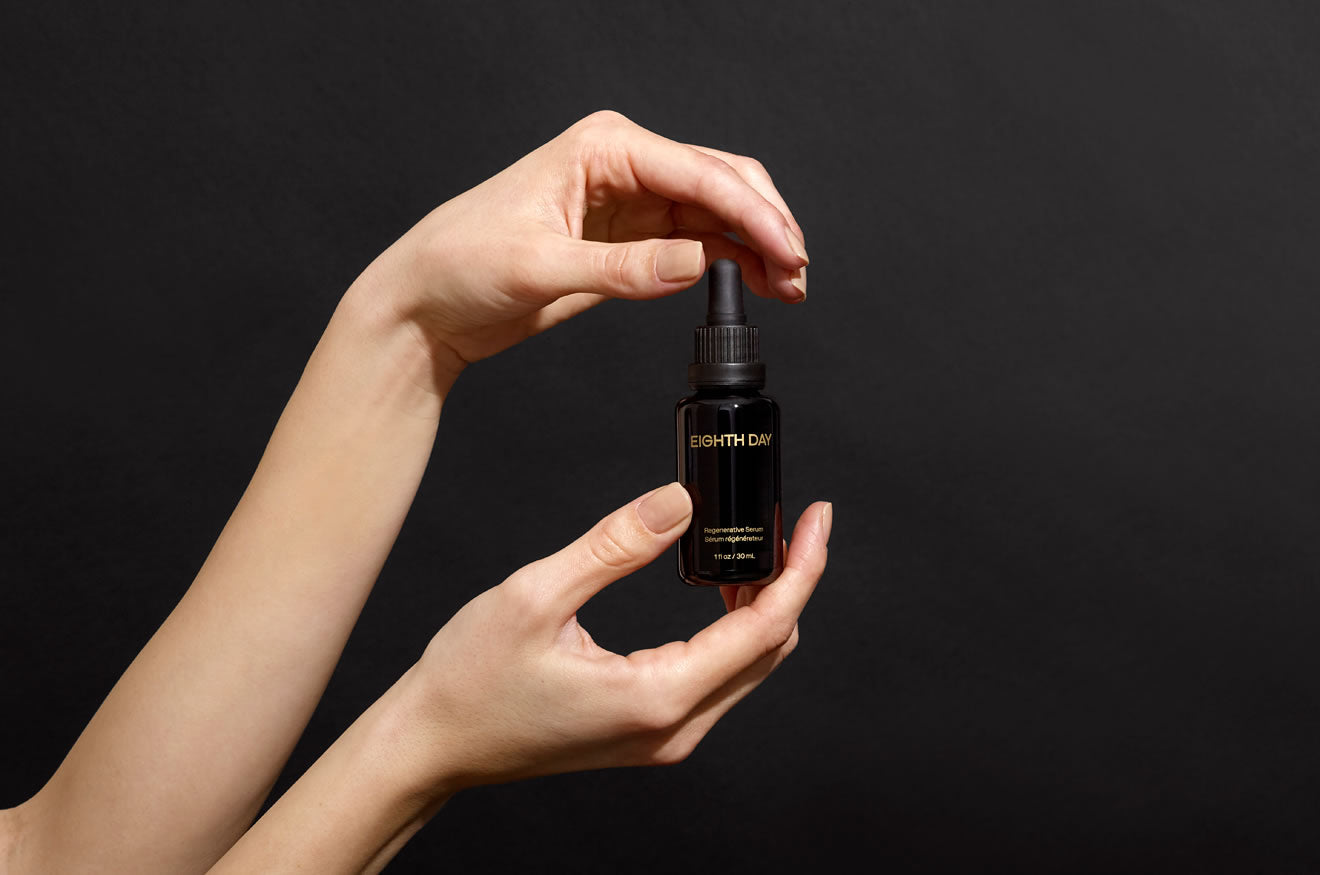 It's a simple question, and one we hope you will ask: Why, with all of the beauty products out there, should you choose ours? What do we do better, and differently, than all the rest? What is our science, how can we prove it works, and who is behind it?
A DIFFERENT KIND OF SKIN DOCTOR
Eighth Day is the culmination of nearly two decades of Dr. Antony Nakhla's boundary pushing work. As one of the leading skin cancer specialists, reconstructive surgeons and wound healing experts, Dr. Nakhla has devoted his career to studying the science of skin, specifically: how injured tissue regenerates and repairs. Patients come from all over the country, entrusting Dr. Nakhla with their skin when it is at its most vulnerable and compromised. Dr. Nakhla has applied the unique insights gained through his work in both the OR and the laboratory to Eighth Day's breakthrough products, formulated with bio-identical actives designed to mimic the body's natural repair mechanisms. With Eighth Day, "we're offering a way to treat the skin based on my experience in wound healing and skin cancer," he says.
TRUE TRANSPARENCY, REAL RESULTS
A product is only as good as its ingredients. We believe ours are best in class, and different than anything else you will find. Our formulations are meticulously crafted for maximum efficacy and measureable results with ingredients uniquely selected by Dr. Nakhla for their ability to revitalize skin from deep within. His strict adherence to non-toxic ingredients goes far beyond trends in "clean" beauty, reflecting his mission as a doctor not only to treat, but to prevent, skin cancer and to promote overall health.
What's inside each bottle is real. We don't hide behind mysterious miracle molecules and empty promises. We are proud to tell you exactly what we're made of—like the individual growth factors, amino acids and peptides in Peptide-Rich Plasma, the patent-pending skin repair blend Dr. Nakhla created to be the foundation of each Eighth Day product.
We don't sprinkle a dusting of our star ingredients in at pixie dust levels, either. Our actives are actually active—that's why you'll find them at the very top of our ingredient lists (the only thing that is in fact regulated within the beauty industry). "What we're offering people are products with multiple active ingredients at the highest levels," says Dr. Nakhla. They're potent concentrations designed to affect change.
And while we are proud of our high-performance ingredients—from neuropeptides and niacinamide to manuka honey and savage ginger root—we are even prouder of the transformative results they deliver together. To ensure that every Eighth Day product does exactly what it says and performs as exceptionally as we believe, each formula is subject to rigorous third party clinical trials, a costly endeavor that remains a rarity in the skin care industry. "The results are amazing," says Dr. Nakhla. We hope you'll try our products and see the difference for yourself.